Opening Hours
〈Open every day of the year〉
March~October
9:00〜18:00(Last admission 17:30)
November~February
9:00〜17:00(Last admission 16:30)
Entrance Fee
fee
Adult
(high school students
and older)
Child
(4years old〜
middle school students)
Under
3years old
General
1,470yen
730yen
Free
Group
(15 people or more)
1,250yen
630yen
Sasebo Residents
(Discount when
resident ID is presents).
1,040yen
530yen
Kujukushima Club
(annual membership)
3,150yen
1,570yen
Sasebo City Residents please produce valid documents recorded in current address(driver license)can get a disount.
The persons with disabilities can get a discount.(Adult 730yen・Child 370yen)
The guests who are 70 years old and older,also can get a discount.(1250yen)
A membership card application is at the Entrance.
The following payment methods are also available.


Special Offer
If you purchase ticket(s) either of the Kujukushima aquarium, cruising, Kujukushima zoo and bortanical garden with the regular admission fees, the next facility admission fee will be discounted.
For example
Show
the ticket of
Umikirara
Show
the ticket of
Umikirara
※It is applicable for those who purchased tickets at the regular admission fee.
※It is valid for three days
「JR Kyushu Rail Pass」 ,it is available to get discounts at Kujukushima cruise, Kujukushima aquarium, Kujukushima zoo & botanical garden. Please check more information at JR Kyushu website.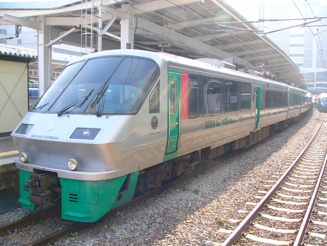 Check the Membership Card imformation.
Notice
●Please do not bring the pets into aquarium,except service dog.
●Smoking is prohibited in the aquarium, please smoking in designated places.
●There are lockers in the entrace hall.
●If you want to enter the aquarium again, please let the staff press the seal on the back of your hands at the exit.
●It is forbidden to bring food or drinks into the aquarium. There is a vending machine in the observation lobby and you can only eat at here.
●The average visiting time in the aquarium is about 60 minutes.
●There is a lending wheelchair and baby stroller corner at the entrance.
It can be seen through the entrance and can be used freely. Please return to the original position when returning.
But,it is only limited quantity,no advance booking.
●There are 3 multi-purpose restroom in the aquarium.
2 of them have baby facilities,and also has a baby feeding room.
Parking Lot
〈Open every day of the year〉
700 spots for car/18 spots for bus
TIME

Parking Lot

Fee
30min
30min〜4hours
5
6
7
8〜12hours
13
14
【NO.1〜NO.2】
Parking lot

Free

200yen
300yen
400yen
500yen
600yen
700yen
800yen
【NO.3〜NO.5】
Parking lot

Fr

ee

200yen
300yen
400yen
500yen
600yen
700yen
800yen
Bus
Parking lot

Free

600yen
900yen
1,200yen
1,500yen
1,800yen
2,100yen
2,400yen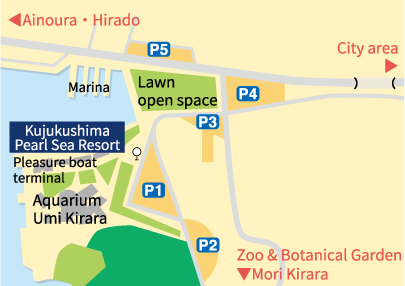 Night parking fee is half price.(from 8:00pm to 8:00am)
No other discount for parking lot.
Bus parking lots are locked according to the business hours of the facilities.
With regard to the use of bus parking lots, priority should be given to the customers who use the facilities.
Please consult in advance when only using the parking lot.
The parking expenses incurred by the guests will be used in the maintenance and management of the scenic spots, the preparation of facilities, and the preservation of the environment of Kujukushima, etc.